Appreciating a piece of art
not just for the art itself 
but the story of 
the artist
------------------------------------------
Bead your dream and live creative life!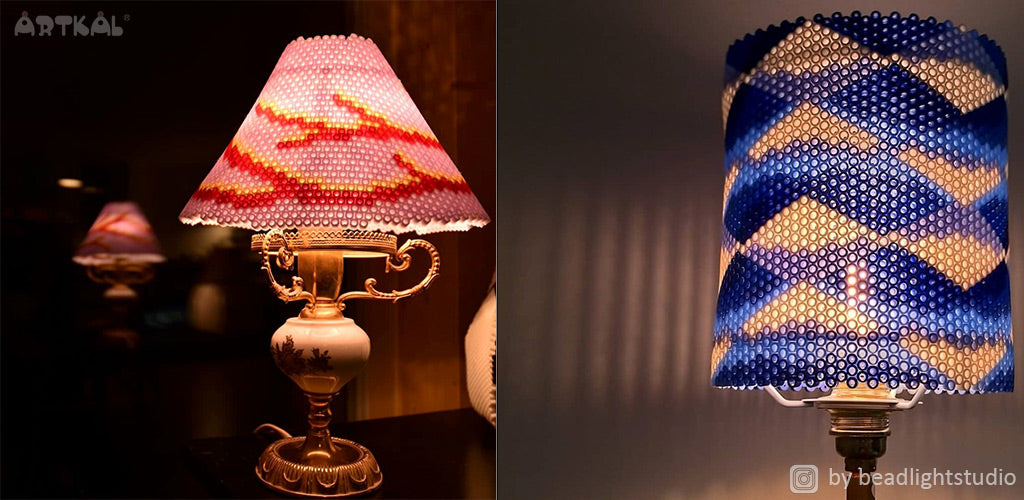 Do you know how to make the 3D lights with Arkal Beads? We also confused about it. But we found that someone is good at making these 3D light on Instagram. His instagram account is beadlightstudio.
Before the New Year of 2021, we contacted his on Instagram and asked his if here are any inspiration when he made his projects.
He told us it is quite a long story, but he will try to keep it short.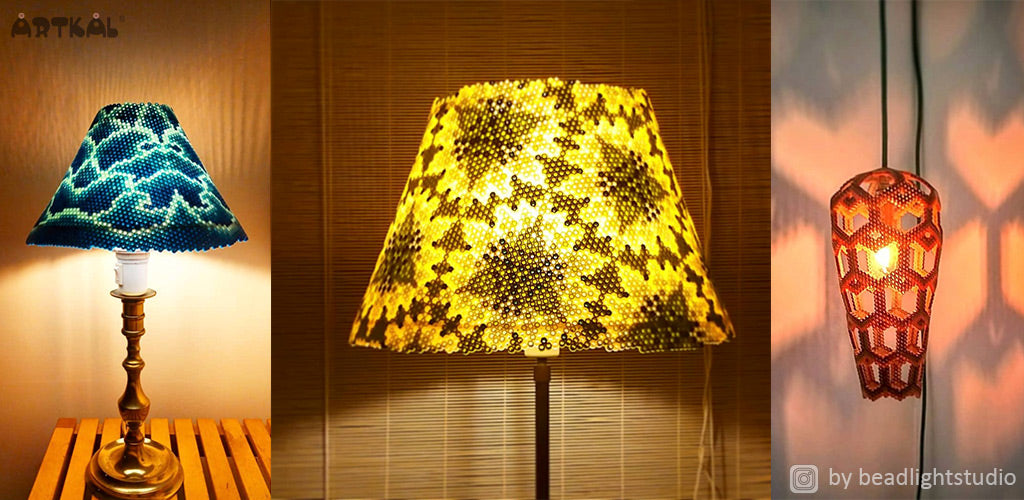 [His Story]
Since I can remember I have has a lot of shapes in my mind and dreams. But I didn't know how to explain or draw them.
13 years ago I got reintroduced to beads, some of my friends and started and art group called PerlePlade Syndikatet (translated: The pegboard sysndicate). They made huge pixelated pictures with beads as a social workshop. I was invited to join and after I discovered.
The possibilities os bending the pieces and saw huge potential when using the hexagon boards, the grid is isometric which give the ironed beads more strength. I started bending, but I thought it was to difficult, so I began to recreate the shapes from mu dreams, byclicking big pieces together and glued smaller pieces on as well. But I didn't think it worked perfectly. So I tried bending again and developed and ironing process that mainly worked perfectly, but Hama Beads' qualit was poorly, but still I could get projects to work.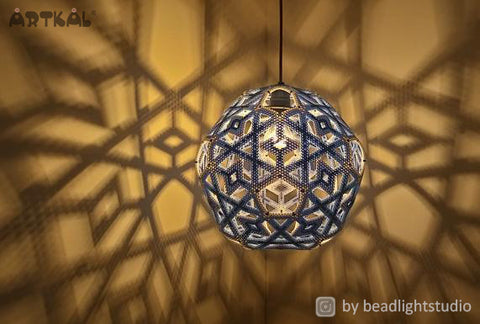 6 years ago I finally learned something about the shapes that had filled my mind and dreams all my life. Learning geometry at DTU (tech university). 
I started creating a fully ironed dodecahedron, but it couldn't be closed, but still it was the perfect lampshade.
The I made a lot of lampshades because it was fun and the poor quanlity of hama beads didn't allow me to test them further.
Then 4 years ago I heard about Artkal Beads.
I bought a broad range of colors from Perleskuret.dk and made some tests. It was love at first test! The ironing process becamde 100 times easier and not a single mistake.
Finally I got the perfect media to create shapes, lampshades and pure art. 
So since August 2020 I have been working on my biggest project ever. Theh XY project! It is basically based on the two shapes X and Y. I created a mathematical formula X*Y=(3d shape).
Example: 20*Y is dodecahedron.
Then I had to tey to create the formula as a base pattern.
 As a math equation it would look this: (X*Y)*60-= (dodecahedron) It turned out as the most beautiful lampshade.
The project will hopefully be published or something. 
I belive I have material enough material to 5 really heavy books.
-------------------------------------------------------
If you are interesting in the Video Tutorial, pls visit his Youtube Channel, Beadlightstudio by S. O. L.